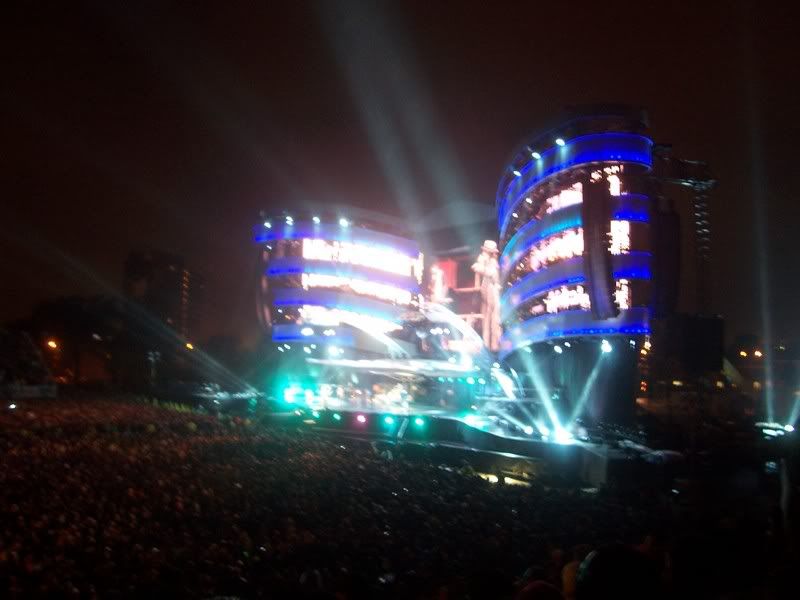 Paint It, Black
It's Only Rock and Roll
Oh No Not You Again
Let's Spend The Night Together
Monkey Man
Streets Of Love
Bitch
Tumblin' Dice
You Got The Silver
Little T&A
Miss You
Rough Justice
Start Me Up
Honky Tonk Woman
Sympathy for the Devil
Jumpin' Jack Flash
Brown Sugar
(I Can't Get No) Satisfaction
This is what I was treated to on Saturday night when the Rolling Stones came to Halifax. Tash & I broke down on show day and bought some tickets (thanks are in order to Tash's mom for helping out!) that allowed us to avoid Kanye West (though if you pop over to YouTube you can find a video of me giving my appraisal of his little act...search for Kanye West sucks) and keep out of a good chunk of the rain. It poured pretty much all afternoon and only let up a little bit for the Stones.
They were only on stage for about an hour and forty minutes, blazing through the 18-song setlist that was largely a greatest hits selection. That's entirely appropriate for a city getting its first Stones treatment, and since I was about the only person in my section singing along with the new ones (I absolutely love Streets of Love, and Rough Justice is pure rock & roll), I don't think too many people complained about the lack of songs from deep in the catalogue. I was hoping for Street Fighting Man or Don't Stop, but as the song goes, you can't always get what you want (note: they were scheduled to play that very song, but ended up not doing so...Tash thinks it's because she hates it and somehow gave off the vibe that convinced them to drop it).
In terms of sheer production and visual presentation, this is the biggest show I've ever seen live. The massive video screen and 8.5-storey stage are truly a sight to behold; living across the street from the Commons, I got to see them build it over the course of a week and then tear it down in the period of two days. They used it to full effect as well, throwing in a giant inflatable tongue during Honky Tonk Woman and, in the visual highlight of the show, giving Halifax a glimpse of hell with Sympathy for the Devil. Red flashing lights, smoke, and giants plumes of fire from the top of the stage. We've got video of that, as well as the opener, one of my favourites, Paint It, Black.
The performance itself was limited somewhat by the rain. Mick moved around a fair deal on the carpets laid down at the front of the stage, but didn't venture out of that area too often. He sure does still move though. Keith mucked up a few times, but you could see that the old curmudgeon was having a blast out on the B-stage during Start Me Up.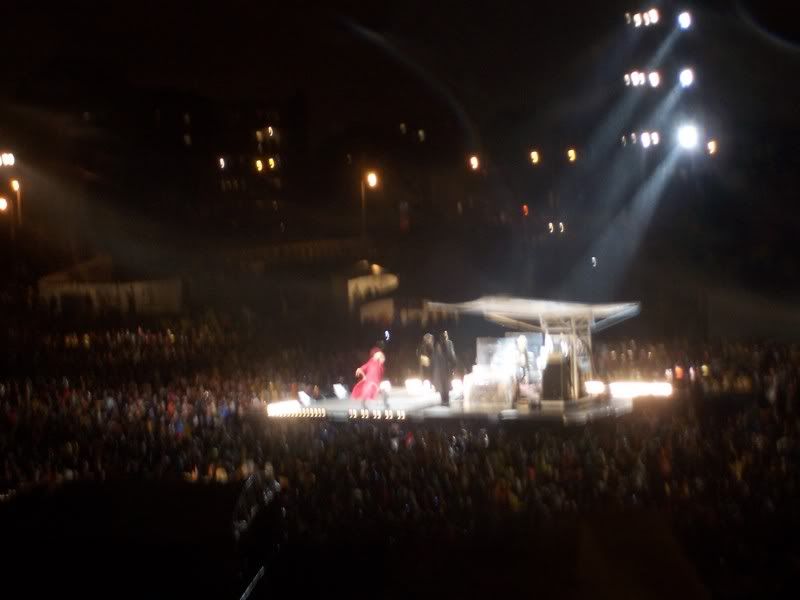 Ronnie Wood is a consumnate performer, even throwing on a sou'wester at one point while doing a great job in the rain. Charlie Watts stayed pretty dry and looked to be truly enjoying himself. The Stones haven't been known for being a tight group of performers for quite a while; it's expected that they're going to make some mistakes, and indeed it's part of the charm.
I've always wanted to see the Stones live. I've loved their music for a long time, having grown up listening to them because of the folks. This is the only act that I've seen that my parents have as well, which is pretty cool to think about in terms of longevity and broad appeal. I don't have a life list or anything like that, but if I did, this would be on it. I would recommend to anybody that hasn't yet seen the Rolling Stones to take hold of the chance before it's too late. Yeah it's pricey and they may not be what they used to be, but they're still better than 95% of the bands out there that are a third of their age, and definitely give you a "bigger bang" for your buck. It's only rock & roll, but I LOVE IT!!!!